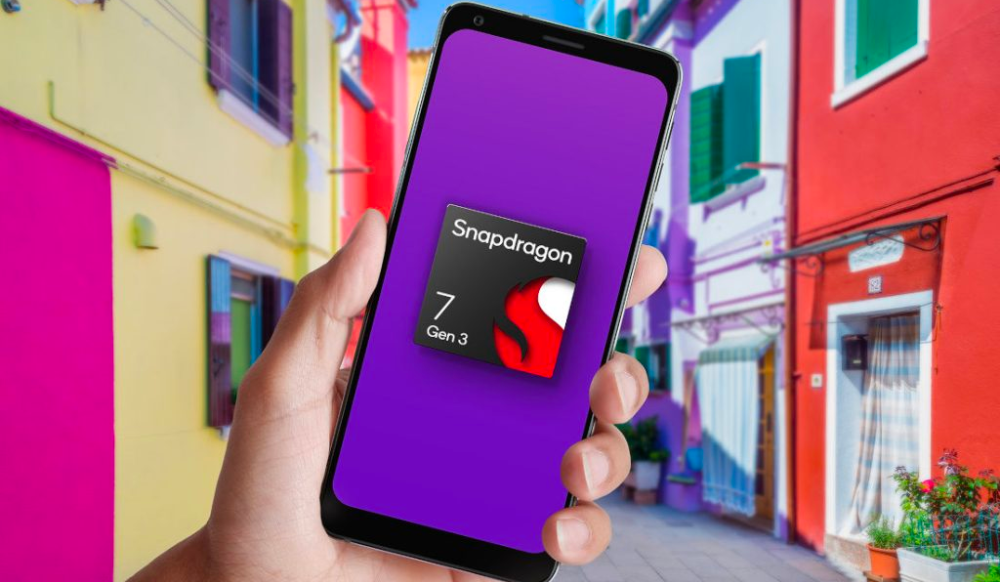 Qualcomm has launched its latest mobile chipset, the Snapdragon 7 Gen 3. This new chipset comes as an upgrade to the Snapdragon 7 Gen 2, bringing on-device AI processing onto the new chip, aside from other upgrades. Here are all the details about the Snapdragon 7 Gen 3 chipset.
The Snapdragon 7 Gen 3 features the KryoCPU, including an ARM Cortex-A715 prime core clocked at 2.63 GHz, 3 x A715 performance cores with speeds up to 2.4 GHz, and 4 x Cortex-A510 efficiency cores with clock speeds of up to 1.8 GHz.Compared to Snapdragon 7 Gen 1, the new chip boasts nearly 15% improved CPU performance.
The new chipset comes with the Adreno 720 GPU. Qualcomm claims that the SoC has over 50% faster GPU performance than the Snapdragon 7 Gen 1. Though, it is a step down from the Snapdragon 7+Gen 2, which has the Adreno 725 GPU. The chipset supports OpenGL ES 3.2, OpenCL 2.0 FP, and Vulkan 1.3.
Honor, Vivo to release Snapdragon 7 Gen 3-powered smartphones this month
Qualcomm has designed the new chip with artificial intelligence at the forefront. The chip promises a significant increase in speed for generative AI applications, with benchmarks claiming that Stable Diffusion images can be created from a text prompt in just one second. According to Qualcomm, the Qualcomm AI Engine in the Snapdragon 7 Gen 3 delivers 60% better AI performance per watt compared to the Snapdragon 7 Gen 1.
The chipset has a 12-bit Triple ISP and can support up to 200MP photo capture. This chipset can support camera setups with triple, dual, and single cameras that can capture up to 21 MP, 32+21 MP, and 64 MP photos, respectively. For video, the chipset enables 4K HDR videos at 60 FPS and supports HEIC photo capture and HEVC video capture. It also captures HDR10+, HDR10, and HLG video formats, as well as 1080p slow-motion videos at 120 FPS.
This SoC includes the Snapdragon X63 5G Modem-RF System, which enables dual-SIM dual-active (DSDA) with two 5G+5G or 5G+4G SIM cards simultaneously. It also features the Qualcomm FastConnect 6700 Mobile Connectivity System for Bluetooth 5.3 and a new triple frequency location support.