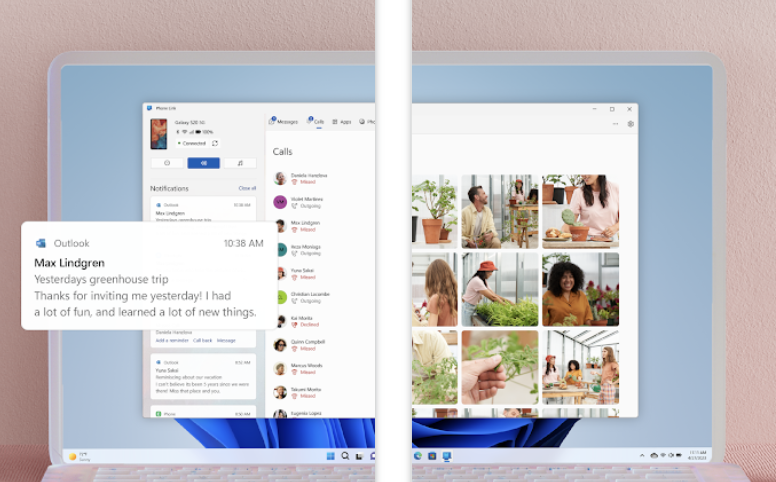 Microsoft announced Link to Windows in partnership with Samsung in 2019. Galaxy Note 10 was the first phone to come with the Link to Windows feature. Almost four years later, Microsoft has finally confirmed via a support document that the feature is no longer limited to Samsung, Surface and Honor devices.
Microsoft expands Link to Windows to more Android devices
According to Microsoft's support page, the Link to Windows or Phone Link app support will be available to more Android devices from different OEMs.This means, that users ofOnePlus, Oppo and Realme can now pair their phone with Windows 11 or Windows 10 PC and access messages, calls and notifications right from their laptop or desktop.
For those unaware, Link to Windows and Phone Link is a Windows 11/10 feature that allows users to sync their Android phone and access notifications, messages, calls, apps, photos and even clipboard, files, audio streaming and more without physically connecting the phone.
That said, not all Samsung-exclusive features are being shared with other Android devices. For instance, the RCS support in the Phone Link app on Windows only works when the default message is set to Samsung Message. We expect this will also change in future.
Rollout details haven't been revealed yet
While Microsoft has confirmed the extension of the Link to Windows support to other brands. It hasn't been clarified yet when it will be available on OnePlus, Oppo and Realme devices.
Considering Link to Windows is an integrated feature in Android, it is not as simple as sideloading the .apk file and getting the feature. OEMs will have to implement it from the backend via software update. We expect that to happen with the ColorOS 14 update.