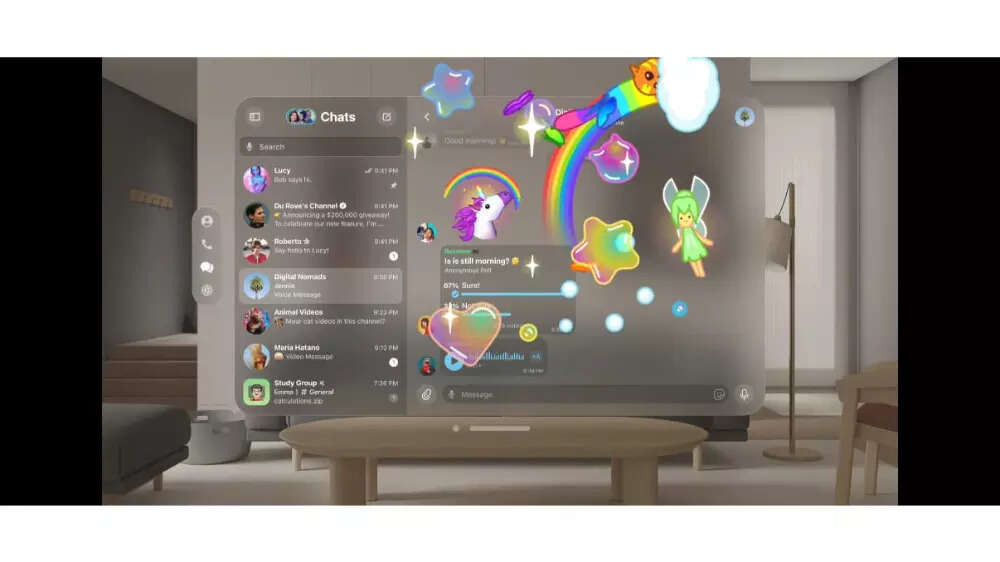 Apple is expected to make its AR/VR headset, Vision Pro, available for users in the US in 2024. The Cupertino-based tech giant is also encouraging multiple app developers to build new apps for its first-ever mixed-reality headset. This messaging service has now become the first app to show third-party vision app concepts.
Telegram is a messaging app which is available on different platforms, including iOS, macOS, Android, and Windows.The company founder and CEO,Pavel Durov, has shared a video to demonstrate how the app will look for Apple Vision Pro owners. The owners of the headset will soon be able to access Telegram with a new visionOS app. More third-party app ‌visionOS‌ experiences as expected to arrive as the availability date approaches.
How Telegram will look on Vision Pro
The video is available on Telegram and was first spotted by 9to5Mac. In the video, the Telegram app on Vision Pro has a translucent design that blends into the area surrounding it. This is the design language that Apple is using for ‌visionOS‌.
The visionOS app also has a sidebar that lists all of the available conversations to a user. To make videos more immersive, the app will pop them out of the interface before it starts playing them.
Meanwhile, on sharing emoji characters, they will be all over the display and will also animate in unique ways. Vision Pro users will be able to send messages using a virtual keyboard or through dictation via Siri.
Just like any other visionOS‌ icons on the
Home interface, the Telegram one also animates and pops out a bit when it is visually selected. An animation serves as a visual cue that the app is highlighted. As the Vision Pro headset uses eye and gesture navigation, users have to tap their fingers to launche the app. Click here to watch the demo video on Telegram.