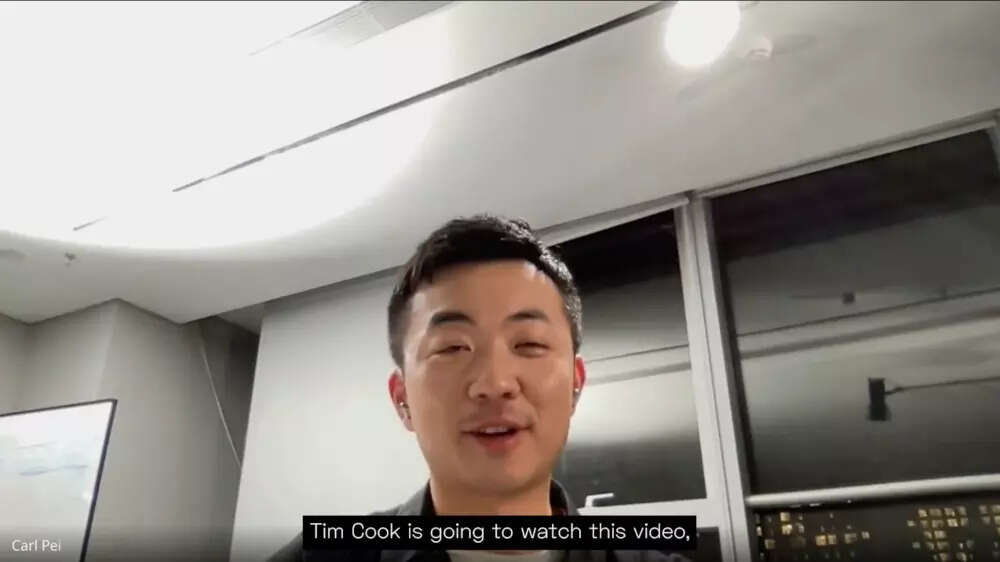 Nothing CEO Carl Pei, in a video, has announced that his London-based company will soon launch Nothing Chat, a messaging interface that will allow an Android phone – Nothing Phone 2 – to message iPhone users like iMessage. This means that when Nothing Phone 2 users send a message to iPhone users, their message will appear in a blue bubble and not in a green bubble.But in the video, he also mentionedApple CEO Tim Cook and later 'sent a message' to him.
Nothing's X handle shared a video in a post on the platform where Pei is talking about the Nothing Chat platform that offers iMessage compatibility for Nothing Phone (2).
"Bring on the blue bubbles. We believe in windows, not walls. If messaging services are dividing phone users, then we want to break those barriers down. So… we've developed iMessage compatibility for your Phone (2)," the post said.
Pei then retweeted that post, and tagged Cook asking him to consider adopting RCS – the new messaging standard.
"Let's end the green bubble stigma! Tim Cook (@tim_cook) please consider adopting RCS for security and interoperability," he said.
Nothing joins Samsung, Google
With this, Nothing became the second company to join Google to openly call out Apple to adopt the new messaging standard.
Last month, Samsung released a video titled "Green bubbles and blue bubbles want to be together," showing a Romeo and Juliet-style conversation between two users.
"What did green ever do to them? We're bubbles too," one of them asks. The "bubbles," is a reference to Apple's iMessage coloured interface wherein a message sent from an iPhone to an iPhone is seen in a feature-rich blue bubble but a message sent from an Android phone is pushed to a green colour bubble.
RCS offers the same features to Android users that iMessage provides to Apple users. If Apple adopts RCS, then all users, irrespective of their Android or iOS platform will be able to enjoy feature-rich, encrypted messaging experience.
Google's #GetTheMessage Campaign
Google has been pretty vocal about Apple and it has, on multiple occasions, targeted Apple for not adopting RCS. Recently, the Alphabet-owned company took the blue bubble-green bubble 'fight' to the EU in hopes of forcing Apple to adopt the latest messaging standard.